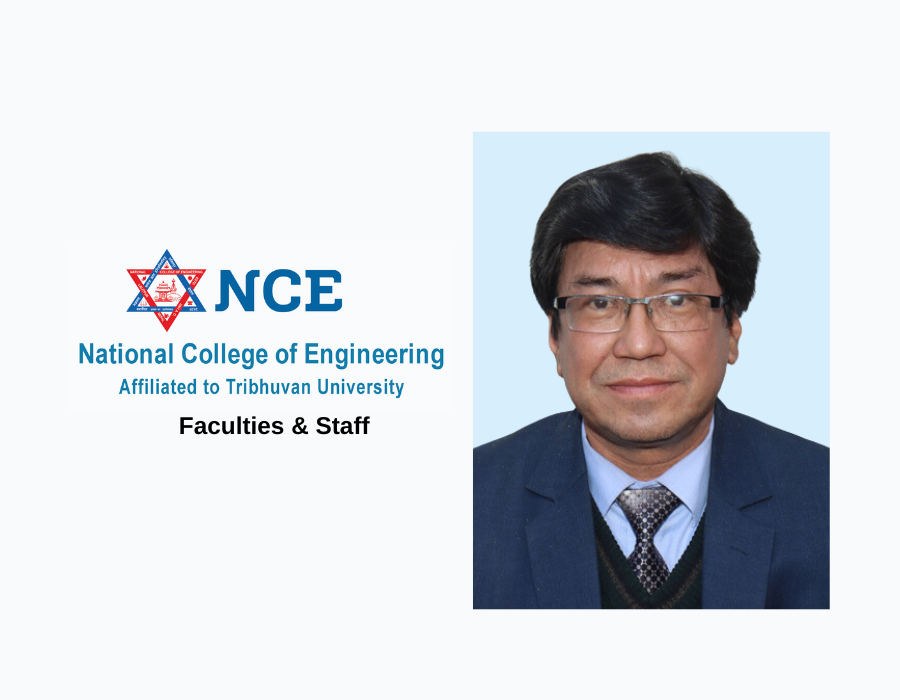 Er. AMRIT MAN TULADHAR, had got Bachelor Degree in Civil Engineering from University of Roorkee (IIT-Roorkee), India, Post Graduate from Lund University, Sweden in "Construction Management" and had got Master Degree from "International Institute for Aerospace Survey & Earth Science (ITC)", Enschede, The Netherlands. He had also got various International Trainings from Thailand, Germany, Macedonia (Formal Yugoslavia), Switzerland, Italy, South Korea, USA etc. related to Civil Engineering.
Before joining the National College of Engineering, he was Nepal Government Employee as Senior Divisional Engineer / Section Chief, at Ministry of Physical Planning and Works, Department of Urban Development and Building Construction, (DUDBC), Babar Mahal, Kathmandu. (1990 June to 2010 Dec). He also involved in the Ministry of Housing and Physical Planning, Department of Buildings, NATIONAL BUILDING CODE DEVELOPMENT PROJECT UNDP\UNCHS (Habitat) Nep\088\054\21.03 which also deal for Preparation of Nepal National Building Code. He was also involved as Government Technical Counterpart in the "The JICA Study on Earthquake Disaster Mitigation in Kathmandu Valley Project", Kingdom of Nepal undertaken by Ministry of Home Affairs and the JICA Study Team, Japan.
During the Govt. employee he was also involved in UNDP Project as "National Program Manager" for three years (2007 Nov. to 2010 Dec.) : "Earthquake Risk Reduction and Recovery Preparedness Program for Nepal" (UNDP/ERRRP Project).
After the UNDP/ERRRP Project, Mr. Tuladhar joined National College of Engineering, Talchhikhel, Lalitpur as Associate Professor from December 2010 as Head of Civil Engineering Department for more than 12 years then he involved as Chief of "Research and Development Unit" of National College of Engineering.
Mr. Tuladhar also involving as Ving part time faculty for :
1) Bachelor Program : i) Himalaya College of Engineering and Management, Chyasal, Lalitput , ii) Kathmandu Engineering College (KEC), Kalimati, Kathmandu iii) Advance College of Engineering & Management (ACEM), Kalanki, Kathmandu iv) Kantipur Engineering College (KEC), Dhapakhel, Lalitpur, v) Kathford International College and Management Balkumari, Lalitpur etc. Also taking various project works for Final year BCE Students of above colleges.
2) MSc. Program : i) MSc in Construction Management, Nepal Engineering College, (Affiliated to Pokhara University), Prayag Pokhari, Lalitpur ii) MSc. in Disaster Risk Engineering and Management, Lumbini International Academy of Science & Technology (LIAST), (Affiliated to Lumbini Buddhist University), Manbhawon, Lalitpur. Also taking various Final year thesis for MSc. Students of above colleges.
He also published many research articles about Civil Engineering on reputed Journals.