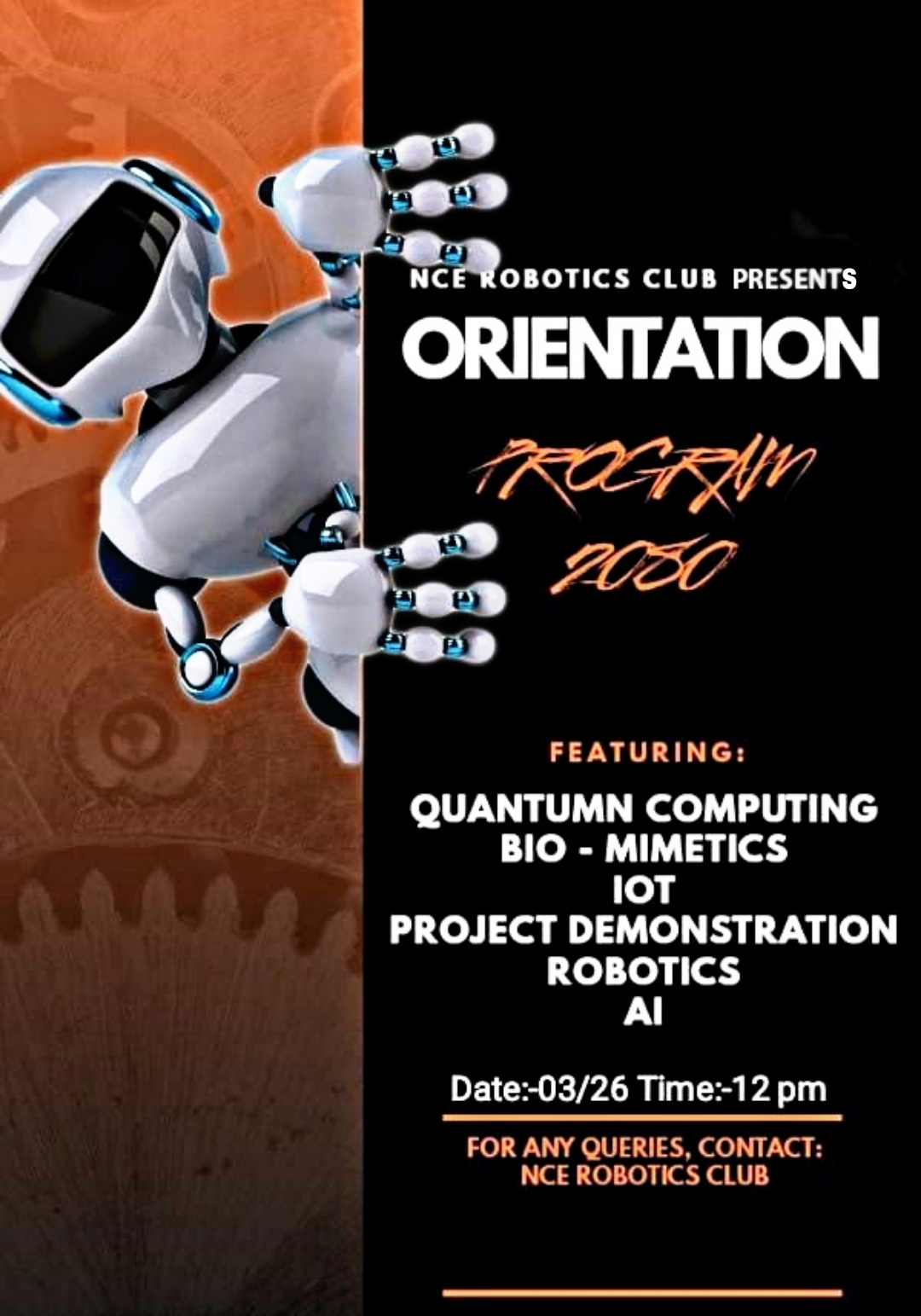 Ashad 26, 2080 / NCE Hall
NCE Robotics Club Orientation Program!
Date: 2080, Ashad 26, Tuesday
Time: 12:00 PM
Venue: NCE Seminar Hall
Are you passionate about robotics? Eager to dive into the world of cutting-edge technology? Then this event is perfect for you!
Join us for an exciting orientation program organized by the NCE Robotics Club.
Discover the incredible opportunities awaiting you in the realm of robotics and automation. Whether you're a beginner or a seasoned enthusiast, this event promises something for everyone!
Gain insights from industry experts
Network with like-minded individuals
Explore hands-on demonstrations
Learn about upcoming events and competitions
Come and be a part of our thriving robotics community!
Embrace the future, unleash your creativity, and get ready for an unforgettable experience.
Don't miss out! Save the date and mark your calendars. Spread the word among your friends who share your passion for robotics. Together, let's embark on a journey of innovation and limitless possibilities!
See you at the NCE Robotics Club Orientation Program!
Are you unsure what to do next?
What qualifications and skills are needed in the current job market?
Uncertain about what career path to take?
Get on the right track with information, advice, and guidance session by Er. Prabin Silwal to take a positive step towards your future.
Participants can join through the following link.
Computer Engineering- Career, Scopes, & Opportunities
Friday, 15 July · 5:00 – 6:00pm
Google Meet joining info: https://meet.google.com/zsm-ppyk-myi
Are you ready to take the next step toward your future career?