From Dreams to Reality: Charting a Path in Robotics and Drones - The Odyssey of Ram Krishna Yadav
Full Name: Ram Krishna Yadav
Year of Graduation: 2019 AD
Program Studied: Electronics &Communication Engineering
Contact Email: ramkrishyad@gmail.com
Current Occupation: Research and Development Engineer- UAV | Robotics
Employer/Institution: Madhukaa Drone Services | Innovative Ghar Nepal | Robotics Academy of Nepal
Work Address: Kathmandu
LinkedIn Profile: https://www.linkedin.com/in/ramkrishnayadav90/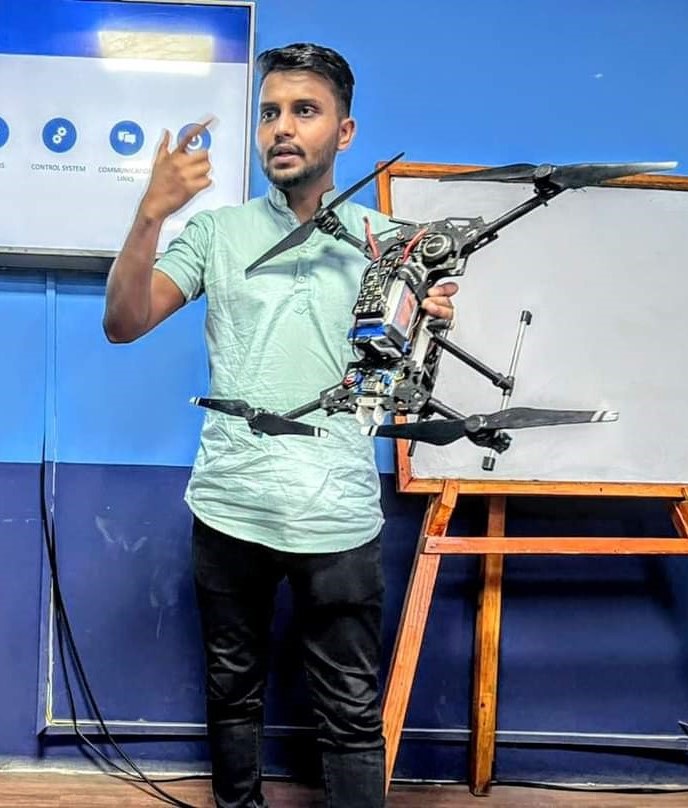 My lifelong fascination with Robots and Drones seamlessly guided me to the right career path after completing my Engineering journey. My active involvement in the Robotics Club during college nurtured a rich practical grounding in electronics circuitry, hardware assembly, and programming for robotics. This immersive exposure through multiple Robotics competitions knit me into the fabric of the professional engineering community.
The dynamic experiences gained in both Class and the Robotics Club opened doors to an internship as a Research Assistant at Innovative Ghar Nepal—an NGO working in robotics, drone technology, and embedded systems in Nepal. Over two enriching years, my role evolved from intern to the position of Research and Development Engineer. Collaboratively, we developed myriad prototypes for Visitor Service Robots (VSR), Assistance Robots, Embedded Systems, and Drones tailored for reconnaissance needs within the Nepal Army.
The narrative of my journey took a new trajectory as I was presented with an opportunity to join Madhukaa Drone Services Pvt. Ltd., a pioneering drone startup. In May 2021, I embarked on this new chapter as a Research and Development Engineer. Here, I dived into the world of robust drones, crafted for tasks of magnitude—ranging from agricultural enhancements and transmission line stringing to precise mapping and autonomous deliveries. 
I had the most amazing time of my life at the National College of Engineering. The faculty and teachers especially our X-HOD, Er. Pradip Adhikari Sir, was really supportive and helped me learn a lot about engineering and discover my interests. I spent more of my time in the Robotics Club, where we built robots and prepared for competitions. I really miss those times and the fun we had.


The college was a great place to explore and learn new things. The Robotics Club was my favorite spot, where I got to work with robots and drones and prepare for competitions. Thinking back to those days brings a lot of happy memories and I really miss all of it.
Even though that part of my life is over, I'll always remember the good times and the things I learned. Carrying that spirit with me, I'm excited to see what the future holds.
WORDS OF WISDOM FOR CURRENT STUDENTS
The National College of Engineering played a huge role in helping me turn my passion into a real career. Over time, I've learned that when we really work hard and stay dedicated to our dreams, we can make them come true. I believe that natural talent isn't as important as the effort we put in to get better at something. While there's still a long way to go, I see these early stages as the start of something great.