Rising from Intern to Amazon: The Inspiring Journey of Sanjita Sharma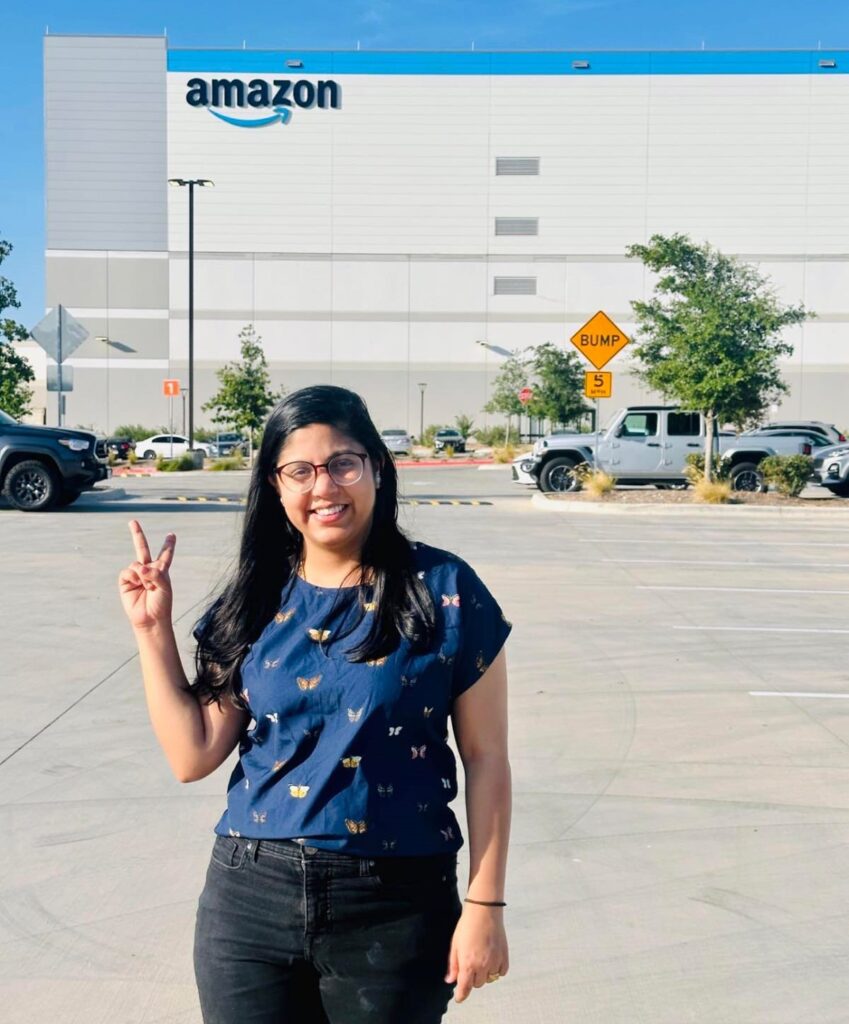 Full Name: Sanjita Sharma
Year of Graduation: 2015 AD
Program Studied: Bachelor's in Computer Engineering
Contact Email: sanjitasharmanp@gmail.com
Current Occupation: System/Software Developer 
Employer/Institution: Amazon.com, Inc
Work Address: Austin, Texas, USA
LinkedIn Profile: https://www.linkedin.com/in/sanjitasharmanp
After college, I embarked on an internship at the Microsoft Innovation Center in Nepal. This experience paved the way for my role as a Software Developer at Ribera Solution. In the midst of this, I prepared for GRE and TOEFL exams, eventually making my way to the US for a Master's in Computer Science at Lamar University in 2018.
Those years were a blend of hard work and fun, teaching me patience, resilience, and independence. As I pursued my degree, I secured a Research Assistant position within the university, contributing to my growth. Graduating in May 2020 came with its challenges as the pandemic hit job markets. Aiming high, I sent out hundreds of applications, faced numerous rejections, interviews, and moments of uncertainty. Yet, I embraced the mantra that every experience is a lesson, not a setback.
I secured a role as a DevOps Engineer at Verizon after overcoming obstacles. Fueled by a thirst for growth, I seized another opportunity four months later becoming a System Development Engineer at Amazon.
Let's take a delightful trip down memory lane to my college days at NCE. It's like opening a treasure chest filled with laughter and heartwarming moments. I was part of the NCE-BCT 2068, a small group that felt like a close-knit family. Even though we were only about 20 people, our bonds were unbreakable and we were always there to support each other.
One of the most hilarious memories was our girls' basketball game. It wasn't about being pros on the court – it was about the sheer joy of playing together and sharing laughs. What made it even more unforgettable was that, girls from other departments like BE in
Electronics and BE in Civil 2068 joined us, turning the game into a wonderful mix of fun and friendly competition. Another standout memory was our college trip to Pokhara. We didn't let the rain dampen our spirits; instead, we embraced the adventure, donning raincoats and setting out on a memorable hike. Those rain-soaked moments and shared laughter created memories that will stay with us forever.
Being a part of the IT Club in college was a turning point for me. It opened doors to exciting opportunities and helped me explore the world of technology. The coding events, the apathons and hackathons, were thrilling experiences that pushed us to our limits. Winning the childapp apathon and representing our college was a proud moment for our team.I'd be remiss not to mention the incredible professors who guided us every step of the way. Pradip Sir, Anup Sir, Mohan Sir, Bikash Balami Sir, MKS sir and many more that I missed – they were more than educators; they were mentors who played a significant role in shaping our paths to success.
So, here's a toast to NCE, the IT Club, the unforgettable basketball game, and all those cherished moments – from late-stay projects sessions to shared jokes. These memories hold a special place in my hearts, and the friendships we formed. Here's to the wonderful days gone by and the memories that bring a smile to my face.
WORDS OF WISDOM FOR CURRENT STUDENTS
Here's some advice that really helped me out on my journey. No matter how hard things seem, don't stop moving forward. Believe in yourself and take risks. You don't have to be perfect or an expert right away. Just work hard and seize the opportunities that come your way – that's how you'll make your way to success. Instead of fretting over whether you can do something, focus on giving yourself time to reach your goals. Remember, failure isn't a dead end; it's a stepping stone towards success. Almost nobody succeeds on the first try. So, don't be afraid to aim high. Even if you don't reach your ultimate goal, you'll still get closer than you realize. When you stumble and fall (and believe me, you will), don't take it personally. Think of it as a lesson on your path to success. Learn from your missteps and do better next time. Don't let fear stop you. Just because you're unsure, don't avoid trying. It's always better to try and fail than to not try at all. Remember, experience is a valuable teacher in life. Try, fail, and learn from those experiences to shape a better future. Believe in yourself and be confident. Spend more time doing things instead of worrying about whether you can do them or not. And most importantly, be patient. Your time here is an opportunity to learn and grow. Absorb all the experiences and let them mold you into an amazing individual. You've got this!